PASSION AND EXPERIENCE
Behind every single cable, there are men who have always put great passion in their job. Experienced and skilled technicians are ready to meet your needs at all times. We do not simply want to be your supplier, we want to be your safe choice. And we got numbers to do so!
EVERYTHING YOU'VE ALWAYS BEEN LOOKING FOR
For us to say "cables" is to say "quality" in every possible way: quality of the finished product, combined with the quality of the raw materials used, the expert technicians who work them and, lastly, the after-sale services we offer.
A SINGLE PLAYER FOR ALL YOUR NEEDING
OUR INTEGRATED PRODUCTION SYSTEM
Thanks to our integrated system that allows us to completely cover the entire production process: from the purchase of 8 mm wire rod to the selection and processing of raw materials, to the design and production process, passing through final testing, logistics and after-sale services.
Discover our production phase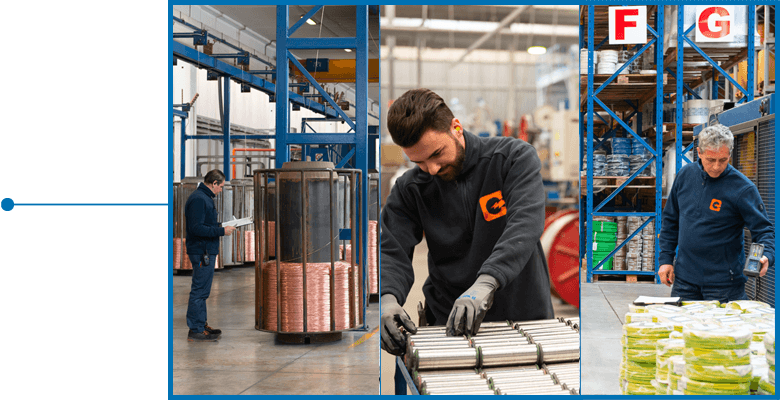 Within our R&D department we study new technologies to be always up to date on different levels. Highly specialized technicians are at your disposal for study together with you customized solutions.
Find out more
Find out some news and crucial information for the cable industry
The armoured cables are those cables that have, in addition to their normal equipped protective overwrap, one more shield made by the protection of steel wires wound helically. In other words, armoured cables are power conductor cables covered by a metal shiel...
Shielded cables are electrical cables of one or more insulated conductors enclosed by a conductive layer. Indeed, they have protection that reduces the quantities of electromagnetic radiations and or noises and diaphonies.  What is the function of the...